Leading Trucking Services in USA

When you hire FUJIMO Transport for your trucking needs, you are hiring 25 years of experience. We've stayed in business by offering quality services and being up front and honest about our business proceedings. Our fleet includes all types of tractors and trailers needed to complete large and small hauling jobs. You don't need to take risks when you need long-distance transportation. You can rest easy knowing all permits and escorts are purchased and used when you hire us.
Our Fleet Accommodates Your Needs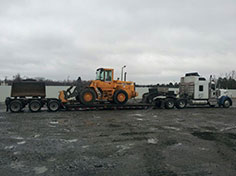 We have an extensive fleet of impressive tractors and trailers. We know our customers have unique needs, and we want to be able to fulfill whatever job you have at hand. Whether you need to transport a piece of equipment across the country or you just need a load of cargo moved from one city to the other, we have the equipment needed to transport quickly and safely:
Flat Bed
Step decks
Removeable Gooseneck
Double drop
Extendables
Escorts
We Hire the Most Qualified Drivers
We only hire the best CDL-licensed individuals to operate our units. Our drivers endure an intense training and vetting process to ensure our customers receive the highest-quality transportation. We treat our drivers like they are part of our family-owned business and in return, they give us their dedication to timely and safe deliveries.
Services for Every Industry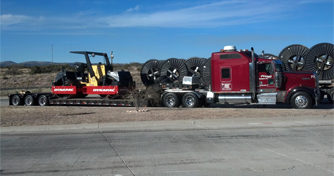 We work with commercial and residential clients on a regular basis, and we are confident our services will fit your needs. We are familiar with common requests made from a variety of industries:
Government
Industrial
Construction
If you are stressed about how you are going to accommodate a difficult transportation project, contact us first to discuss your options. We will walk you through the process from loading to delivery. We will offer our competitive rate and timely deadlines. We know your business might depend on the delivery of your equipment or cargo, so we will do everything in our power to get it to the final destination safely and then you can get back to work.
We are a Florida based carried but we have experience transporting a variety of materials all across the country. Contact us for quality transporting no matter where you are located in the US!